FRANCESCA RABITTI
Editor, translator and journalist.

I've always had a thing about words. Fascinated by writing and the infinite worlds it can generate and embrace, I translate. 

From one language to another, thoughts into words.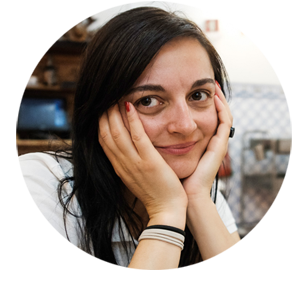 TRANSLATIONS
---
My working languages
are English and Spanish. 
I translate in the fields of communication, sales, law, human resources and sports.
I translate websites, press releases and articles, catalogues and company brochures.
TRAINING
---
I deliver Business English courses to regional authorities
and companies.
I assist my clients in managing their international business - participating in trade fairs and congresses, organising work in the export sales area.
WRITING & EDITING
---
I write articles and stories. I work with authors, supporting them from the incubatory stages of new stories through to the final draft, revising manuscripts and editorial projects. I also adapt and finalise texts for publication in journals, websites and on social networks.
GHOSTWRITING
---
I write for others, transforming ideas and stories into words destined for editorial projects, websites and social networks. 
I listen to their needs, study their personalities and ways of life to find the right voice for my clients' stories.
Bunker - Studio di progettazione culturale
Benedict & Oxford Schools
National Geographic Traveler
Training and Teaching
2005 - present
Business courses:

- "Techniques and tools for internationalisation"

- "Instruments for import/export: commercial English"

- "Advanced Business English for managing secretarial relations and commercial activities with foreign clients and suppliers"

- Specialist technical English courses designed to meet the needs of the company
Translations
2001 - present
- Websites, company brochures and press releases (The North Face, Oregon Scientific, Amcor Flexibles, Bunker - Studio di progettazione culturale, MB Media, Sound PR...)

- Articles (Top Gear Italia - Ed. Domus, The North Face...)
- Manuals (Omnia, The New Holland...)

- Technical and specialist glossaries (Liu Jo, Granarolo, Niederweiser, Rossi Motoriduttori...)

- Legal translations (Notary's offices, Courts)

- Consecutive interpreting (B&B Elettronica, Fiera Modena...)
Editing and Writing
2001 - present
- Articles and journalism cooperation (National Geographic Traveler, Ed. Domus, Shoot4Change...) 

- Editing and supervision of editorial projects

- Ghostwriting
- Literary prizes: first place in the "Premio Letterario Gianfrancesco Straparola"; finalist in the literary prize "La Venticinquesima Ora" - Scuola di scrittura Belleville; finalist in the "Concorso Letterario Racconti Emiliani"
"Raul Montanari" School of Creative Writing
2015-2017
Topics covered: 

- The artistic statute of narration - Practical elements of the job - Writers and narrators - The writer's I - Autobiography - Style - Story, plot, situation - Characters - Focus, narrator and point of view - Description, dialogue, scene, reflection - The time of the story - Drafts
Interpreting and Communication Degree
2004
IULM Milan
Diploma in translating and interpreting
2001
SSIT Bologna (SSML Carlo Bo University)
CONTACT
For further information or estimates, write me!